a
PROMOTIONAL PACKAGING
International Omni-Pac, Inc. is a producer of multi-packaging solutions for bottlers, canners, club stores, dairies and food processing plants. Our patented plastic carriers; which are also called dogbones or rings, offer new ways to increase your sales. Multipack IOP carriers allow beverage and food packagers to easily and cost effectively package multiples of their product, in order to increase sales.
PLASTIC CARRIERS
The alternative product packaging option
IOP is an alternate packaging option for those currently using OPI products, belly bands and shrink wrapping. The IOP plastic carriers allow for additionally branding and an increase in consumer preference - all of which will sell more product.

a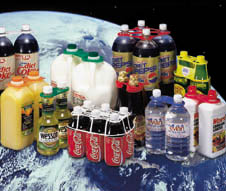 INCREASE SALES
With IOP multi-packaging plastic carriers!
IOP carriers (also known as "dogbones"), can dramatically increase the sales of your product by providing a multi-packaging option that can get your products the best placing in club stores.

Corporate Office 2079 Wright Ave. #B3
La Verne, Ca 91750 USA
Tel:
(909) 593-2833

Fax: (909) 593-2829
Sales Contact:
Richard Erickson